The federal government will send psychologists and other mental health professionals into aged-care homes across Australia under one of its budget measures, offering hope to tens of thousands of residents with psychiatric disorders who are now denied effective therapies.
The Coalition's announcement of $82.5 million over four years will target the widespread neglect of aged-care residents' mental health, which was exposed by a Fairfax Media investigation in early 2017.
Budget documents have acknowledged a key finding of the investigation: aged-care residents are ineligible for the same Medicare-funded psychological treatments that other Australians receive. Experts have branded the situation a "blatantly discriminatory … disgrace".
The government's response of a special funding stream for nursing homes has been welcomed by several health, aged-care provider and elderly rights groups, but the Royal Australian College of GPs says the money should instead be funnelled through a new Medicare item for residents.
The government's model is to fund its 31 regional primary health networks – healthcare administration bodies – to source mental health professionals to treat residents with a diagnosed disorder in the homes.
A Health Department spokeswoman told Fairfax Media that services would be delivered by a range of mental health professionals, which could include psychologists, social workers, occupational therapists, mental health nurses and counsellors.
Services would cover "the spectrum of … stepped care … including low intensity interventions (such as group sessions) and individual psychological therapies".
Swinburne University older people's psychology expert Sunil Bhar said the announcement was "exciting", as the government had "finally … acknowledged the disparity between older adults living in residential care settings and those living in the community".
Owing to a little-known Medicare rule, almost all nursing home residents are at present denied access to a key plank of Australia's primary mental healthcare system – GP mental health treatment plans and associated psychological therapies provided through the Better Access program.
At the same time, despite sky-high levels of depression and other mental illnesses found in residential aged care, the homes themselves almost never pay for clinical mental health treatments for residents and are neither adequately funded nor legally compelled to do so.
Experts estimate "conservatively" that more than 30,000 residents suffering depression and other mental disorders are being denied the treatment of first choice – a psychological therapy such as cognitive-behavioural therapy.
About half of all depressed residents receive no treatment of any kind, and those who do are almost always put on psychotropic drugs by GPs, even though their use in the elderly is linked to serious adverse effects, including falls and fractures.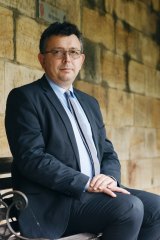 Leading older persons psychiatrist Rod McKay said the measure "could make a real difference" if primary health networks were given access to expert advice and if funding levels were linked to need.
Royal Australian College of GPs president Bastian Seidel welcomed any "genuine and additional funding" but said funding channelled through primary health networks would be diminished by administrative costs.
He called for a Medicare item that would provide residents with equal access to GP mental health treatment plans and associated psychological therapies.
Medicare funding was "stable and certain", while commissioned services "might be there for half a year and disappear".