When should you get your annual flu shot?
It is a question that has become the subject of a bitter turf war between doctors and pharmacists, with peak groups offering different advice to the public on when to get their yearly jab.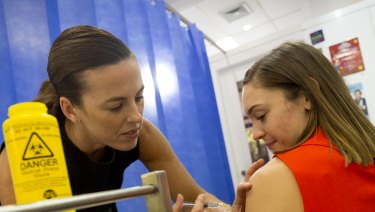 In the shadow of last year's big and deadly influenza season, some pharmacies have already started offering vaccines.
But doctors are warning that it could be too early, since the inoculation wears off as the months go by. They have accused pharmacists of putting their profits before patients.
Last year the peak flu season continued into early September, meaning that those who were vaccinated in early autumn may have not been sufficiently protected come spring.
"If you have your vaccine now it might not be effective when the flu season is at its peak," said Royal Australian College of General Practitioners president Bastian Seidel.
"For every month it becomes between 6 to 11 per cent less effective."
While health professionals are united in the view that the right time to give the new super-strength vaccine to the over-65s is April or May, the split is emerging as to what those considered at lower risk of complications should do.
The Australian Medical Association says people not eligible for free vaccines should also wait until late next month or early May for their shot, while the Pharmaceutical Society of Australia says this group of people should start getting their jabs now.
"The message for them is to be vaccinated from now onwards, essentially as soon as possible," said the pharmaceutical society's president Shane Jackson.
"Because what we are trying to do is get the herd immunity up for the entire population, which protects everyone."
The Pharmacy Guild of Australia's Anthony Tassone said while the ideal time for the flu jab was late April or early May, it was better for someone to get immunised earlier than not at all.
"Herd immunity, which is getting the vaccination rates up above 95 per cent, is a team effort," he said.
Both doctors and pharmacists say their stance has the support of the chief medical officer Professor Brendan Murphy. But the federal Department of Health has declined to weigh into the stoush by avoiding specifically detailing when the best time to vaccinate is.
"Recent evidence suggests that protection following influenza vaccination may begin to wane after three to four months," a department spokeswoman said.
"Therefore, timing of vaccination should aim to achieve the highest level of protection during the period of influenza virus circulation, typically from June to September and usually peaking from August."
The government's free influenza vaccine program begins on Sunday, April 1. At-risk groups are eligible, including pregnant women, those over 65 and many Aboriginal and Torres Strait Islander people.
Doctors and pharmacists have traded barbs over the motivation behind their differing advice.
Dr Seidel said it was "absolutely unacceptable" that the two groups were not providing consistent advice to the public, and he accused the pharmacy guild and pharmaceutical society of "backstabbing" the chief medical officer by ignoring his advice.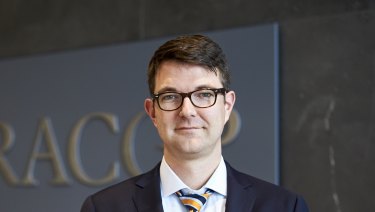 "I don't understand what the motivation is other than a financial one, which is getting the vaccination out of the fridge and into the patient, whether it's effective or not," Dr Seidel said.
Dr Jackson, meanwhile, said he did not think doctors had come to terms with the decision to allow pharmacists to administer some influenza injections and he dubbed the dispute a turf war.
"The medical professionals should be above that and giving really clear and appropriate advice to individual patents."
Australian Medical Association president Michael Gannon said he was concerned that some people eligible for free vaccines through their GPs were paying for the shots at a pharmacy.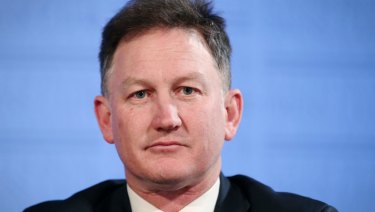 However he said his overwhelming concern was making sure people got vaccinated, and pharmacists giving vaccines in a professional and confidential environment was "next best" to going to a doctor.
"If allowing pharmacists to vaccinate increases the coverage of the population, then that's hardly something Australia's doctors would be unhappy about," Dr Gannon said.
In Melbourne, the owner of Ascot Vale Pharmacy Jane Mitchell has already stocked up on flu vaccines. But she is advising customers against getting a shot until late April, unless they are travelling overseas.
"I think we found last year that some people got immunised too early, so the immunity was waning towards that height of flu season," she said.
Later next month, the pharmacy will start encouraging people to make a booking or simply walk to get their shots from a number of trained pharmacists at the 24-hour store.
While there have already been high numbers of influenza cases this year, with 9000 notified so far, Immunisation Coalition director Dr Ginni Mansberg said experts were not expecting a repeat of last year's horror season, which saw hundreds of elderly people and five children die.
Dr Mansberg said that is because there had yet to be a major mutation of an influenza strain, as happened last year. Also, because so many people caught the flu last year, more will be immune.
"You rarely get two really high years in a row, probably because of that reason – the residual immunity," she said.