A plan is being drawn up by federal Health Minister Greg Hunt to tackle endometriosis, a chronic, painful condition suffered by 700,000 women nationally.
Mr Hunt will place a draft national action plan on endometriosis front and centre at the Council of Australian Governments (COAG) meeting of health ministers on Friday in Sydney.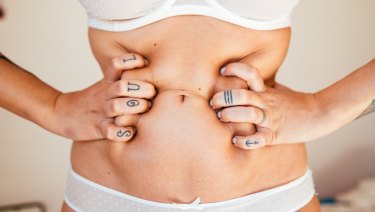 It is understood he will be seeking the support of all state and territory ministers for his plan to teach schoolchildren about pelvic pain and endometriosis and better equip general practitioners.
He will also be seeking their input during a public consultation process, which will begin next month. The final plan is likely to be released in June.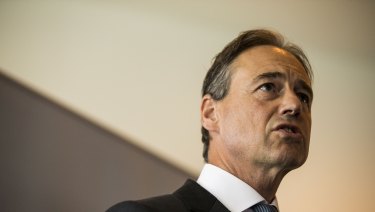 "The demand from women for information, for change, is exponentially increasing," Donna Ciccia, the chief executive of Endometriosis Australia, said.
"We need to work with the [medical] colleges and practitioners to not just increase awareness, but also empathy. We keep hearing from women that they're being dismissed, that they're not being heard."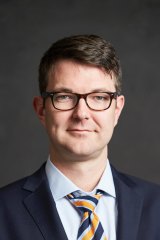 Often dismissed as "bad period pain", endometriosis is a condition where tissue, similar to what normally lines the womb, grows outside the uterus, causing inflammation and debilitating pain.
It usually grows in the pelvic cavity, affecting the ovaries, bowel and bladder, but can also spread to areas as far as the chest. Symptoms include nausea, painful periods and reduced fertility.
The cause of endometriosis is unclear and diagnosis is difficult, with some women suffering for years before learning of the condition.
Ms Ciccia said endometriosis was a "community issue" because sufferers were skipping school, unable to hold full-time jobs, and going to the emergency department for powerful painkillers.
A survey by Endometriosis Australia found more than 700,000 women have been diagnosed with the disease.
According to the survey, sufferers are more likely to experience period pain (69 per cent), pain during intercourse (66 per cent) and pain between periods (52 per cent) compared to those without the disease.
Women with endometriosis are also 30 per cent more likely to suffer infertility, compared to those without.
In December last year, Minister Hunt issued a national apology for not helping women with endometriosis sooner. He then announced the development of the national action plan.
Earlier this year he convened a national roundtable of patient advocates, clinicians, medical researchers and policy makers to identify recommendations for the plan.
At the COAG Health Council meeting, the ministers are expected to discuss short and long-term priorities and actions to tackle the disease.
It is understood Mr Hunt wants the plan to be shaped by the women who suffer from it as well as experts.
Dr Bastian Seidel, president of the Royal Australian College of General Practitioners, said Mr Hunt should be commended for trying to tackle what is a significant problem in women's health.
He said it was difficult to diagnose the condition, because at present it can only be confirmed with a laparoscopy, a keyhole surgery performed in the pelvis.
He said he understood that many women misdiagnosed or diagnosed late were disappointed by their experience, but explained awareness among doctors has been growing over the past 10 years.
"We can't just yet do another awareness campaign," he said.
"There's got to be follow up as well, we need to measure the impact, we need to know what messages work, it has to be a long-term commitment."
Professor Danielle Mazza, a women's health expert from Monash University, said there was a "gap in the literature" and a lot of work needed to be done to find out about the prevalence and impact of the disease.
"It would be a shame if the research money was just about biomedical issues, because I think it's important to provide some funding towards the kinds of research in general practice – a) establish what the baseline, current practice is, b) explore the barriers and enablers to more rapid diagnosis and c) create models of care," she said.